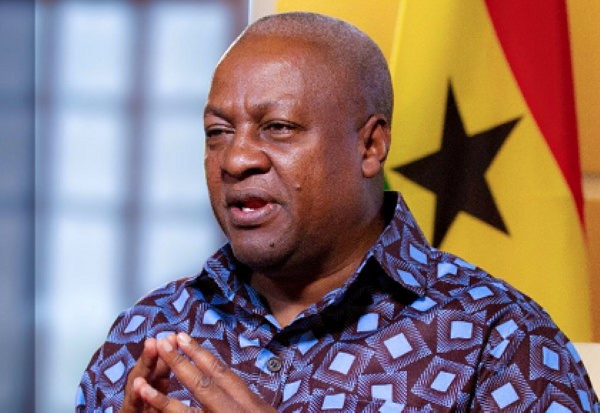 The
National Democratic Congress
' (NDC) chances of winning election 2024 are diminishing following former President Mahama's now-famous do or die comment, says Paul Boateng, a security expert.
The Chief Executive Officer (CEO) at the Africa Centre for Security and Intelligence Studies posits that Ghanaians hate electoral violence and just like President Akufo-Addo's 'all die be die' statement affected his presidential bid, so will former President Mahama's 'do or die' comment hurt his chances at the 2024 polls.
As specified by Paul Boateng, a recent study conducted by his outfit tipped the NDC as having a 6 percent lead over the ruling NPP should a presidential election be conducted today. "But if former President Mahama keeps making such comments, his chances at becoming president again will be reduced because the decisions of Ghanaians at the polls are influenced by what party flag bearers propagate."
He advised the NDC to rather preach peace. "Ghanaians are against violence and prefer calm so issuing such a statement of violence can cause one to lose an election," he told Raymond Nyamador on the Happy Morning Show.
According to him, it was needless for the former President to have made the do or die comment as he believes the message could have been sent across clearly without that reference.
To him, this is not the time for a leader of Mahama's caliber to make such a call and argues, "there are laws on polling stations in Ghana and anyone who wants to cause violence will be dealt with by the security agencies."
He admitted that tensions will be high heading towards election 2024 as the NPP seeks to break the 8 with the NDC also striving to win back the presidency. "When such statements are made then it builds so much tension".
The NPP will be tempted to respond to this and the NDC will also try and justify the statement causing more political tension. Both parties should preach peace and calm, not violence."
Background
Former President
John Dramani Mahama
is fighting off claims that his recent comments may be a prediction of violence in the next general elections.
During his election 2020 'Thank You' tour, John Mahama reiterated this suspicion on Tuesday, September 7, that; "we were clearly robbed, but we accepted the verdict for the sake of peace."
"But I want to state here that the next elections would be won or lost at the polling station. So at the polling station, it will be do or die. I am not saying all die be die. I'm saying it will be 'do or die' because the right thing must be done," he told Techiman-based Akina FM.
This comment has received condemnation from a cross-section of Ghanaians who have called on the former President to retract his statement as it is unbecoming of a statesman, which he has refused.
He says his utterance regarding a 'do or die' affair at polling stations in 2024 is an idiomatic expression that has been misconstrued by the governing
New Patriotic Party
(NPP).
Read Full Story