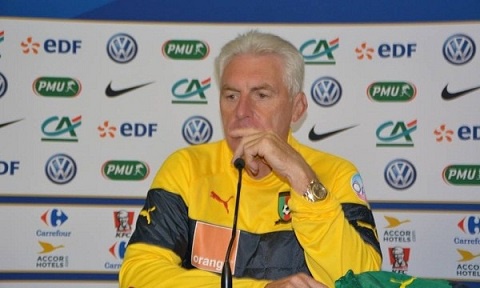 Hugo Broos, South Africa's coach, has warned his side that they must improve their shooting going into Monday's 2022 World Cup qualifier against Ghana on Monday.
The Belgian highlighted that their offensive play was poor in Friday's goalless draw against Zimbabwe during their opening Group G match in the qualifiers
Bafana lost their first points in this qualification programme, but they are now second behind Ghana, who beat Ethiopia 1-0 at the Cape Coast Stadium on Friday.
Broos reflected on his first match as Bafana coach as they were unimpressive in the match played in Harare on Friday.
He said that he was pleased with the mentality and overall performance of the players, but had concerns about their offensive play.
"First of all I am happy with the mentality of the players, I thought the players showed strong mentality which was good for me," the Belgian said following the match against Zimbabwe.
"Defensively I think it was all right, we didn't give too many chances to Zimbabwe because the defence was there and I am happy about that.
"But at the other side of the field, you have to score goals to win games and we were not good offensively.
"We must work on that in the coming week and months because to win matches you have to score. This was for us a problem because at this level we have to be more dangerous.
"Sometimes we have to move more quickly to get to the other side of the field and give the opponent problems.
"These are some of the things that we have to work on and at the moment we have two days to work until the next match. It will not be OK immediately but we need some time to work on things that didn't work properly for us."
Ghana will try to return to the global tournament when the tournament takes place in the Asian country of Qatar next year.
CK Akonnor's team will travel to South Africa to play on matchday two in Johannesburg on Monday in their attempt to qualify for their fourth World Cup appearance.
After missing the 2018 event in Russia, Ghana has set their sights on returning to the World Cup.
The
Black Stars
reached the world showpiece in Germany 2006 where they were making their first appearance.
They then went on to reach the Round of 16.
They secured a qualification ticket for the South African 2010 edition. This campaign saw them reach the quarter-finals, where they were defeated by Uruguay.
They made their third consecutive appearance at the 2014 World Cup in Brazil but they were forced to exit at the group stage for the first-time.
Read Full Story