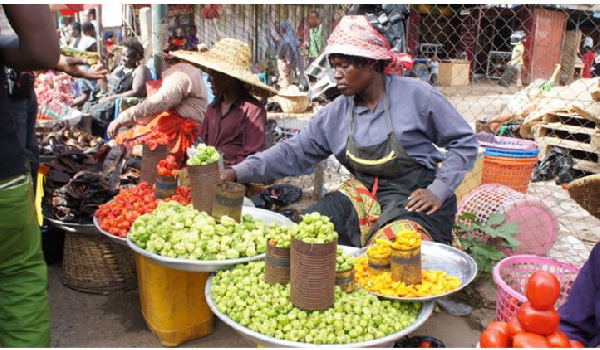 The Takoradi main Market may be closed down for the second time due to what local authorities describe as the difficulty in enforcing safety protocols.
As part of moves to ensure social distancing, market women have been spread out across various makeshift trading centers by the municipal
COVID-19
taskforce.
However, many traders have flouted the orders on the basis that sales have significantly dropped after the directives. As a result, the market women are often found crowding themselves at the main business center.
Speaking to Class News, Head of the
COVID-19
taskforce in the municipality James Obeng Junior, says a final decision will be taken on the closure of the market in the coming days.
He explained that "at a point in time I realised that around 2 o'clock to 4 o'clock the women from the Jubilee Park come back to market circle and there will be a crowd.
"Several efforts have been made to get these women to go back to the Jubilee park but when you go there and they see you they run into the market, when you're not there they come back.
"So we are not closing all the markets within the metropolis, it is only the Takoradi market and precisely the women who trade around the market circle they are causing that problem, they are not practicing the protocols with regards to social distancing. The assembly was expecting that for now they've accepted and arranged for the social distancing but as [they are not complying] it is up to the assembly to take a decision tomorrow."
Read Full Story