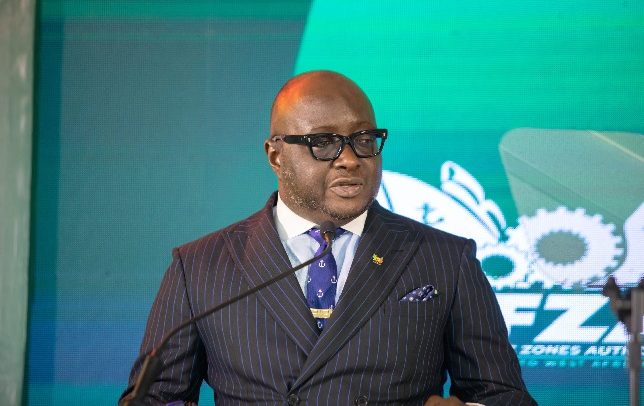 Mike Oquaye Jnr.
The Chief Executive Officer (CEO), of the Ghana Free Zones Authority, Mike Oquaye Jnr. has entreated students of the Association International School (AIS) to learn hard and emulate the efforts of the alumni of the school to shape their careers.
Addressing AIS students as the keynote speaker at the schools 60th anniversary TED Talk event last Monday in Accra on the theme, "I am a proud alumnus of AIS", Mr. Oquaye urged the students not to focus only on academics but should give priority to other areas such as sports, personal grooming, social connections among others.
According to him, cultivating networking skills and building relationships with peers and others would yield substantial benefits in the future.
Mr. Oquaye recounted how speaking at his alma mater was an exceptionally meaningful experience for him and provided a unique opportunity to give back to the institution that had played a fundamental role in shaping his journey in life.
He emphasized that AIS's three core principles of Academic Excellence, Christian Values, and Discipline had served as the bedrock upon which his character and achievements were built.
He was optimistic that the experience and lessons shared would continue to resonate with the students, motivating them to ardently pursue their dreams and make a positive, lasting impact on the world.
The students thanked the CEO for inspiring them while reflecting their genuine eagerness to learn from the former students of the school.
AIS was founded by the late Colonel George E. Amuah in 1963 and stamped with his education values, transforming it into a nationally recognized institution decades later.
The school like others was to provide scholarly training and moral education for other children as well as recruit an exceptional faculty that reflects internationalism in the true sense to offer the students an exceptionally well-rounded curriculum through continuous exposure to a meticulously comprehensive education.
AIS has rebuilt its reputation of excellence and has become one of the most sought-after schools in Ghana and its alumni have become trailblazers in multinational companies and governmental organizations.
By Ebenezer K. Amponsah
Read Full Story