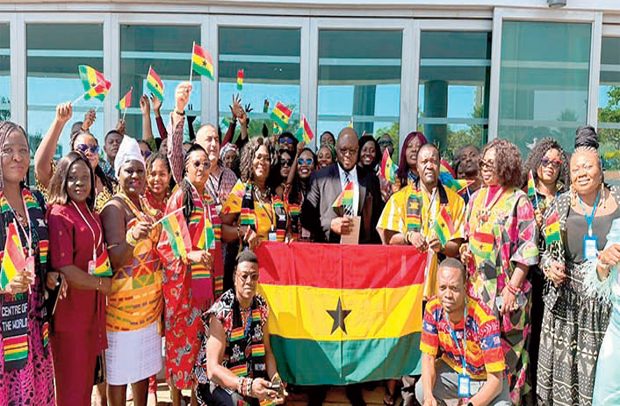 Paricipants in a group photograph after the conference
The Tour Operators Union of Ghana (TOUGHA) in partnership with the National Association of Nigeria Travel Agencies (NANTA) has held a conference in South Africa to promote inter-Africa travels, trade, tourism and investment through collaboration, partnership and innovation.
About 70 delegates from TOUGHA and close to 100 participants from NANTA attended the conference.
The maiden edition of the conference was hosted by the School of Tourism and Hospitality, University of Johannesburg from May 4 to 7, 2023 and supported by South Africa Tourism.
It was on the theme "It's Time For Africa", to promote Africa as a destination for tourism and unite the continent.
Born out of the African Continental Free Trade Agreement (AfCFTA) agenda, the conference brought together professionals, practitioners, and industry players from all over the African continent to market tourism products and to brainstorm ways to ensure seamless travels across the continent without the need for borders in Africa that restrict the growth of travel businesses.
Government and business representatives from Ghana, South Africa, and Nigeria participated in two panel discussions and a workshop.
All attendees received certificates from the University of Johannesburg in South Africa, which was one of the meeting's primary highlights.
TOUGHA and NANTA also participated in "Africa's Travel Indaba," one of Africa's largest Pan-African Trade and Exhibition show, in Durban, South Africa.
TOUGHA,led by its President, Mrs. Alisa OseiAsamoah joined more than 6,000 delegates, including 1,000 international buyers and 1,000 exhibitors showcasing 350 products, trade associations, destination marketing companies, leisure tourism services partners, and the media across the continent.
South Africa's Tourism Minister, Patricia De Lille,delivering her key note address at the official opening of Africa's Travel Indaba 2023 said, "Competition is essential for destination marketing and tourism, and there is also the need for collaboration, partnership and innovation across the value chain to drive growth in the sector."
The President of TOUGHA was optimistic that the collaborative initiative with South African Tourism (SAT) and its West African Office, the Tourism Business Council of South Africa (TBCSA) and NANTA, consisting of structured engagements, aimed at invigorating the tourism sector.
She opined that the partnership and collaboration will lead to the establishment of dedicatedworkstreams by members of TOUGHA focusing on specific markets and aspects of tourism and destination marketing.
Mrs. Alisa OseiAsamoah expressed her profound appreciation to the South African High Commissioner to Ghana, Mrs. Grace Mason in facilitating the visa acquisition process for about 70 members of TOUGHA prior to the conference in Johannesburg and Africa's Travel Indaba in Durban, South Africa.
Read Full Story