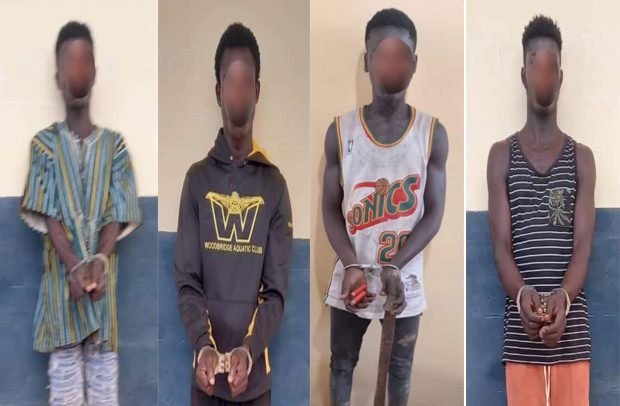 The suspects
Four persons who allegedly attacked policemen at galamsey site in the Western Region in a viral video have been arrested.
Names of the four men were given as Kojo Siah alias Mozey; Emmanuel Mensah alias Kofi Asamoah, Maxwell Cudjoe and Agyabu Haruna Dissawu.
This is after the Axim Divisional Police patrol team on March 9, 2023 reported an attack on the team by a gang that seized the magazine of a Service rifle together with some mobile phones belonging to the Police officers.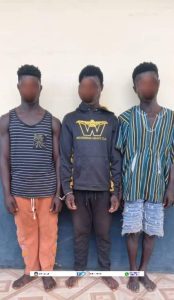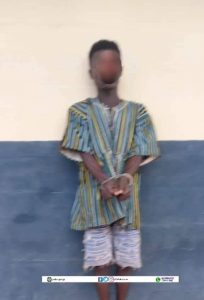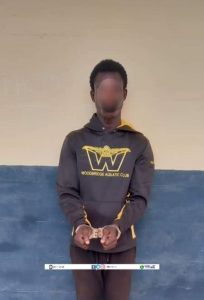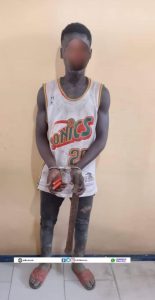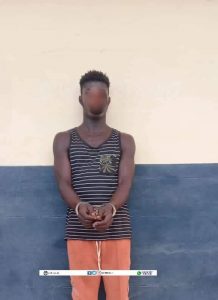 According to a police statement signed by ACP Grace Ansah-Akrofi, Director of Police Public Affairs, an intelligence operation was immediately launched after the report to get the suspects arrested.
On March 28, 2023, after about three weeks of the intelligence operation the four men were arrested for their suspected involvement in the attack.
A search conducted at the residence of Kwame Ato Asare Ani, the prime suspect, who is still on the run, led to the retrieval of three pump-action shotguns.
Also, one pump-action shotgun, machetes and eight BB refilled cartridges were retrieved from the suspect's unregistered Honda CRV vehicle.
Other items retrieved from the suspects include two live refilled BB cartridges and one unregistered motorbike.
In a statement, police said on April 1, 2023, while the investigations were ongoing to get the remaining suspects arrested, it attention was drawn to video footage in which the said Police personnel, members of the Axim Patrol team, were shown pleading with members of the gang while the gang is alleging extortion by the officers.
Meanwhile, the allegation of extortion against the officers has been referred to the Police Professional Standards Bureau (PPSB) for investigation.
Also, all the suspects in the reported attack on the patrol team, who had been arrested, have been put before court and have been remanded into custody.
It continued that efforts are continuing to get the remaining suspects arrested.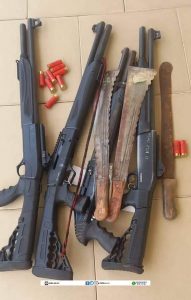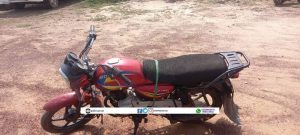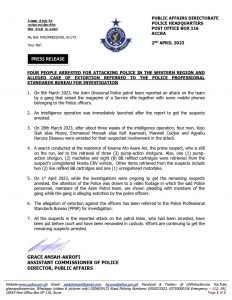 By Vincent Kubi
Read Full Story