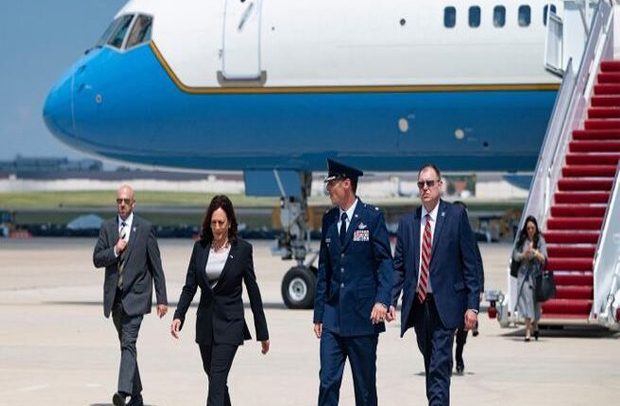 The Ghana Police Service has announced road traffic arrangements to be observed within Accra and Cape Coast for the visiting US Vice President Kamala Harris.
Ms Harris is paying a visit to Ghana from 26th to 29th March 2023.
US Vice-President Kamala Harris on Sunday afternoon arrived in Ghana to begin a three-nation tour of Africa – her first official trip on the continent.
She was received by the Vice-President of Ghana, Dr. Mahamudu Bawumia at Kotoka International International, where she addressed the media on her arrival.
According to the Police in a statement, some roads in Accra will be blocked to pay the way for the Vice President of the US to perform her duties.
The Police said "As part of the security arrangements in connection with the official state visit to the Republic of Ghana by H. E. Kamala Harris, the Vice President of the United States of America, the general public is respectfully being asked to take note of the following traffic arrangements in Accra and Cape Coast from 26th to 29th March 2023''.
"In light of the above traffic arrangements, motorists are kindly being asked to cooperate with the Police and advised to use alternative routes wherever possible, to ensure effective traffic management as we demonstrate our convivial hospitality in line with our tradition and culture towards our guests''.
It continued: "We would also like to indicate that Police officers would be detailed along the roads mentioned and at other vantage points to assist the public during the entire period. We apologize to the public for any inconvenience caused by these arrangements'' Director of Public Affairs, ACP Grace Ansah-Akrofi indicated.
As part of her three-day tour, aimed at building "stronger U.S. ties with a continent that has seldom received the positive attention it deserves, she will meet with President Nana Akufo-Addo, Tanzania's President Samia Hassan, and Zambia's President Hakainde Hichilema before ending her tour on 2 April.
The reason for her visit is "to build on the progress made at the U.S.-Africa Leaders' Summit" which was hosted by Biden and the Vice President in December 2022.
With each of the three presidents, they will talk about "African development issues, bilateral relations, and Russia's war against Ukraine among other issues. Some of the people that she will meet on this trip include young leaders and business people and other individuals who are not in government.
On Wednesday, still in Accra, she will meet with women entrepreneurs and discuss the economic empowerment of women.
She will make an announcement there related to public and private sector investments in Africa that are aimed at helping to close the digital gender divide and to empower women economically.
She will leave Ghana on Wednesday afternoon to Tanzania.
-BY Daniel Bampoe
Read Full Story