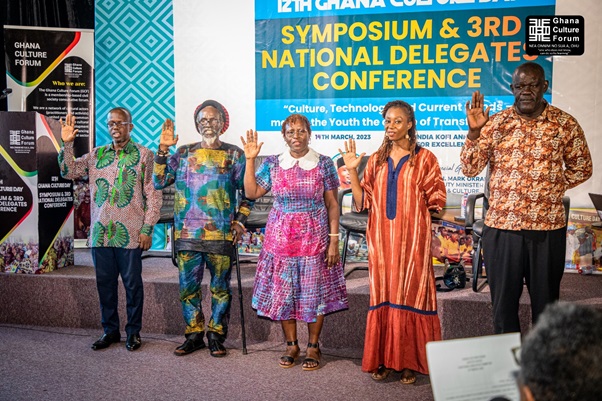 Newly elected leaders being sworn in
The Ghana Culture Forum which is the largest advocacy platform made up of cultural associations, practitioners and activists from all domains of Ghana's cultural space, has elected a new leadership to steeraffairs till 2027.
The election took place at the 12th Ghana Culture Day celebrations onMarch 14, 2023 at the Ghana-India Kofi Annan Centre for Excellence in ICT in Accra.
The programme for the 12th Ghana Culture Day celebrationsalso included the third National Delegates Conference where the elections were held.
The seven-member functional executive committee elected and inaugurated includes, the Chairperson – Nana Otuo Owoahene Acheampong (from the Ghana Association of Visual Artists), the Vice Chairperson – Ahuma Bosco Ocansey(from the Musicians Union of Ghana), the General Secretary – Edwina Assan (atextile designer/entrepreneur), the Treasurer – Makeba Boateng (APR, an archivist and independent fashion textiles researcher-curator), and three Executive Members – Samuel Dodoo from the Spinnet Textile & Garment Cluster, Ken Fiati from the Ghana Actors Guild, and Samuel Gyandoh from the Film Crew Association of Ghana.
As consistent with the Ghana Culture Day celebrations, this year's symposium had a keynote presentation on the theme "Culture, Technology and Current trends – Making the youth the centre of transformation"which was delivered by Mr. Kobina Ankomah Graham, a lecturer, writer, DJ and culture geek.
Speaking at the symposium, the special guest of honour, Mark Okraku-Mantey, Deputy Minister of Tourism, Arts & Culture, confirmed he was pleased with the work the Ghana Culture Forum has done within Ghana's cultural space andthus pledged the ministry's support and active participation in subsequent Ghana Culture Day celebrations.
The event also featured an award ceremony where prizes were awarded to the winners of the second edition of the Ghana Culture Day Interschool Debate held on March 10, 2023 at the St Thomas Aquinas School.
At the debate, Jurist Jenkins Smith and Elvis Owusu of the St Thomas Aquinas SHS destooledthe defending champions,Accra Girls' SHS.
Meanwhile, Mary Adjetey from the St John's Grammar SHS emerged as the most eloquent debater whilst RosebellaGyamfua Boateng from the Accra Girls' SHS emerged as the most knowledgeable debater.
Read Full Story