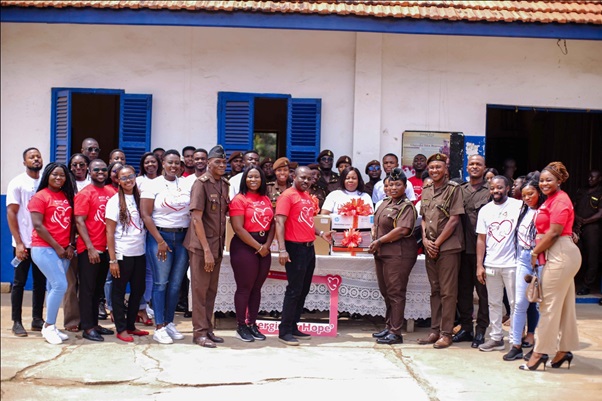 A section of Vivo Energy staff and officers of the Senior Correctional Centre
Vivo Energy Ghana, the exclusive marketer and distributor of Shell branded fuels and lubricants, has donated a desktop computer and a laser printer to the all-boys Senior Correctional Centre, formerly known as the Ghana Borstal Institute, of the Ghana Prisions Service located in Roman Ridge, Accra.
This gesture forms part of the company's activities to celebrate this year's Valentine's Day with the students at the Institute and support the school with resources to facilitate its administrative duties.
Vivo Energy's Asset Integrity Manager, Kwasi Barfi who led a team of employees to make the donation took time to share motivational stories and some words of encouragement with the students.
He encouraged them to see a great opportunity to excel in life even in their current situation.
He advised them to apply themselves to the training at the Institute, either it being schooling or vocational, and they would come out to do exploits since, they are young and can rewrite their story.
"Being the only male correctional Center in Ghana, we have teenagers from across the regions that have been brought here to be reformed and integrated back into the society. For this reason, we have a great responsibility, and we are excited about this donation", the Deputy Director of Prisons and Officer-in charge of the Centre, Madam Millicent Owusu said.
She appealed to corporate organisations to come to the aid of the Institute especially with logistics to help sharpen the ICT skills and improve the knowledge of the students.
Read Full Story