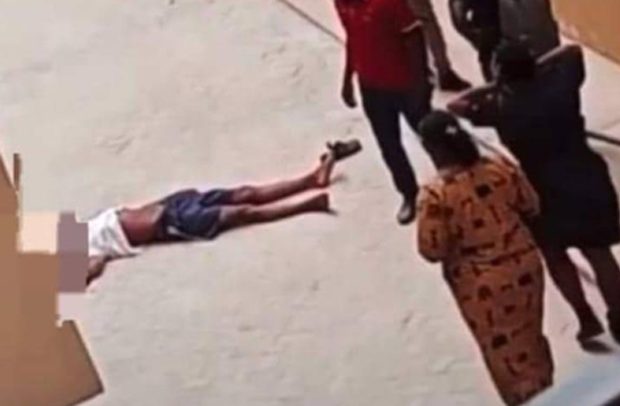 The deceased after falling from the tall building
A LEVEL 200 male student of the Kwame Nkrumah University of Science and Technology (KNUST) in Kumasi has fallen from a tall building to his death.
The now-deceased student, allegedly, tried jumping from his room balcony on the third floor of the Ultimate Hostel at Bomso in Kumasi, but he unfortunately slipped and fell.
The heartbreaking incident, according to sources in the school, happened last Friday and it attracted a lot of people, who were mostly students, to the accident scene.
The dead body of the student, who is said to be a Level 200 Industrial Arts student, has since been deposited in a mortuary for preservation and autopsy.
According to reports, the student (name withheld) was engaged in an illegal activity in his hostel room at the third floor of the Ultimate Hostel (Old Evandy, Bomso) that fateful day.
Some of the students, reportedly, alerted the security personnel at the hostel about the illegal activity, so the security agents then rushed to arrest him.
The sources said the now-deceased student tried to jump from his room balcony to another balcony to avert arrest when he heard knocks on his door, but he slipped and fell to his death.
The student was motionless when he fell from the building. He was eventually rushed to a medical facility for treatment, but was declared dead on arrival.
The disturbing case was reported to the police, who dispatched some officers to the scene for inspection. The police have since commenced their investigations into the case.
Other reports said some of the students who were in the room with the deceased before the falling incident, have been invited by the police to assist in investigations.
FROM I.F. Joe Awuah Jnr., Kumasi
Read Full Story