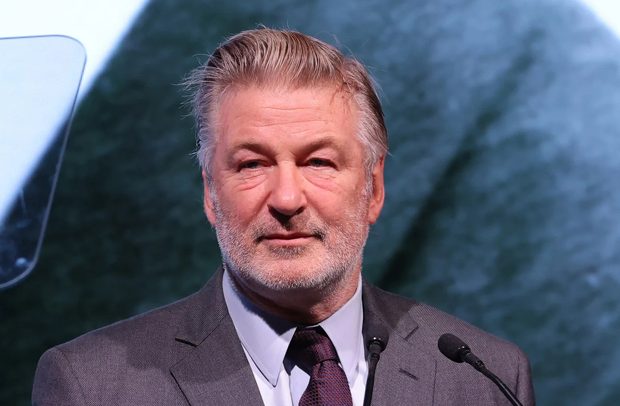 Alec Baldwin
Filming on the Western movie 'Rust' is to resume this spring, according to US reports, with producer Alec Baldwin remaining in the starring role.
It comes after Baldwin was charged with two counts of involuntary manslaughter over the fatal on-set shooting of cinematographer Halyna Hutchins.
A mix of new and old crewmembers will work on the film, with Bianca Cline filling in for the late Ms Hutchins.
Her widower, Matthew, has also approved a documentary about her, producers said.
The documentary, made "at [executive producer, Mr] Hutchins' behest and with his blessing and support" will explore Ms Hutchins' life and "final work, including the completion of the film," they noted.
Baldwin had been rehearsing a scene for Rust when the shooting, which led to Ms Hutchins' death, occurred at a ranch near Sante Fe, New Mexico in October 2021.
The movie was expected to resume filming in January, after the Hollywood star reached a settlement in a wrongful death lawsuit brought by Mr Hutchins.
But then fresh charges of involuntary manslaughter were brought against him, and the film's armourer Hannah Gutierrez Reed, by the Santa Fe District Attorney's office last month.
Lawyers for both denied any wrongdoing and said they intended to fight them in court.
Mr Baldwin's lawyer, Luke Nikas, called the decision to charge the actor "a terrible miscarriage of justice".
"Mr Baldwin had no reason to believe there was a live bullet in the gun – or anywhere on the movie set," Mr Nikas said. "He relied on the professionals with whom he worked; who assured him the gun did not have live rounds. We will fight these charges, and we will win."
Rust Movie productions, which Baldwin is part of, said on Tuesday that the scene which was being rehearsed when Ms Hutchins was shot has now been rewritten, and that the "any use of working weapons and any form of ammunition" had now been barred from the set.
The company added Ms Cline, whose credits include 'Marcel the Shell With Shoes On', 'American Horror Story', will now "complete Halyna's vision for the film" and also donate her salary to charity.
–BBC
Read Full Story