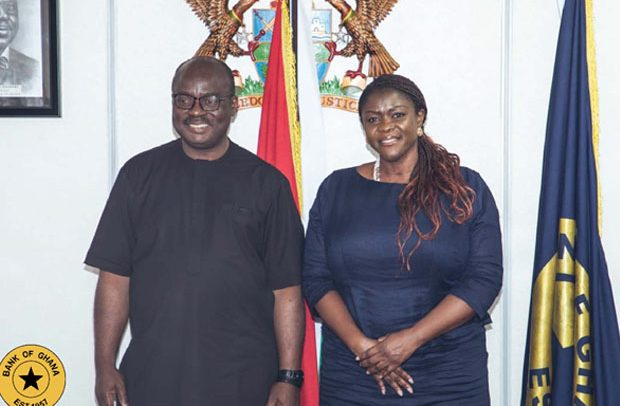 Dr. Ernest Addison and Ms. Kathleen Addy
A 5-Member delegation, led by the Chairperson of the National Commission for Civic Education (NCCE), Kathleen Addy, has paid a courtesy call on the Governor Ernest Addison and Management of the Bank of Ghana to seek mutually-beneficial relationships between the two institutions.
In his remarks, Dr. Addison stated that, public education on the proper handling of currency notes would be one of the key areas of collaboration.
He lamented the poor handling of currency notes by some Ghanaians and urged the NCCE to play a key role in the Bank's "Clean Notes Campaign" initiative, including helping to educate citizens on the proper handling of the Ghana currency notes.
He remarked that Ghanaians' aversion towards the use of coins had an impact on pricing, as vendors avoided the use of coins by rounding off prices adding this negatively impacted the Central Bank's inflation objective.
NCCE Chairperson mentioned that the NCCE was an independent, non-partisan governance institution established under the 1992 Constitution with a mandate to educate citizens on their rights and responsibilities, as well as work towards entrenching democracy in Ghana.
Ms. Addy expressed gratitude to the Governor for the warm reception at the bank and welcomed the proposal to intensify public education on the proper handling of the Ghana currency notes.
The chairperson was accompanied by a Commission Member, Lawyer Victor Brobbey, the Acting Commission Secretary, Lucille Hewlett Annan, Director of Programmes, Dr. Imurana Mohammed and the Director of Finance, Monica Mamattah.
In the Governor's team were the First and Second Deputy Governors, Maxwell Opoku-Afari and Elsie Addo Awadzi, Director of Research, Dr. Philip Abradu-Otoo, the Bank's Secretary, Sandra Thompson.
Read Full Story