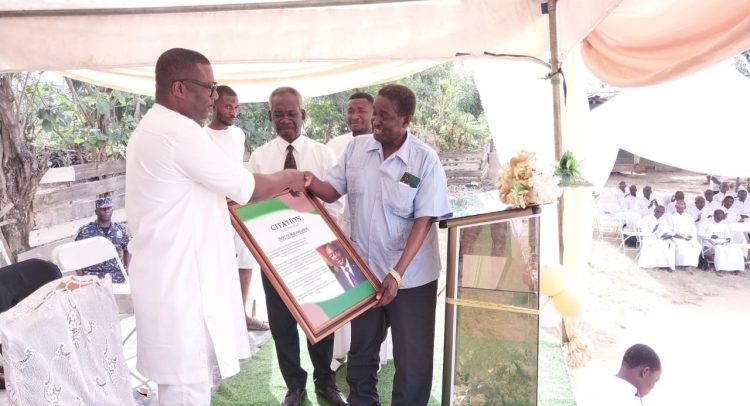 The Sabbath Faith Salvation Church of Ghana, Suhum Circuit in the Eastern Region, has honoured the Vice President, Dr. Mahamudu Bawumia.
In recognition of his efforts to build a peaceful nation, the second gentleman of the Republic received a citation and a plaque.
"We highly commend you and urge you not to relax on your oars but to continue to leave no stone unturned on your dime to build a united Ghana, free under the banner of Development of Freedom. We salute you and give you an award as the UNIFIER OF GHANA," portions of the inscription on the citation read.
Captain Nkrabeah Effah-Dartey (Rtd), a senior legal practitioner and prominent NPP member, made the presentation on behalf of the church to Frederick Opare-Ansah, a former MP for Suhum who stood in for the Vice President during the presentation ceremony.
In his speech, Mr. Opare-Ansah extended the Veep's felicitations and thanked the church for its continuous prayers and assistance in the country.
In support of their church project, he gave GHC10,000 on behalf of the Vice President.
He urged the congregation and all Ghanaians to uphold the peace that the sub-Saharan area continues to experience.
"Let's not take the peace we have here for granted," he urged, adding that "the only country where Christians and Muslims gather for religious purposes is Ghana."
Dr. Bawumia's humility and trans-religious tolerance have endeared him to the Christian and Muslim communities.
As a devoted Muslim, Dr. Bawumia has a perfect sense of the need for religious tolerance and has demonstrated true leadership and commitment at the same.
BY Daniel Bampoe
Read Full Story