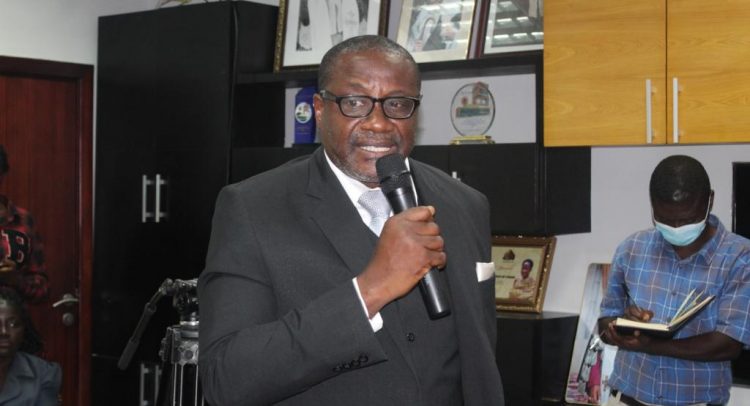 The Methodist Church Ghana and the Methodist University Council have announced the appointment of Prof. Philip Ebow Bondzi-Simpson as its first Vice Chancellor.
Prof. Bondzi-Simpson's appointment follows the award of the Presidential Charter to the University to be a full-fledged tertiary institution awarding its own certificates and degrees to students.
Presiding Bishop of the Methodist Church, Ghana, Rev. Dr. Paul Kwabena Boafo, who made the announcement, said the appointment would go down in the history of the University.
"On behalf of the Methodist Church and the Council, we welcome you our first Vice Chancellor after autonomy was granted by the government," he said.
He noted that since the university was granted autonomy,Prof. Bondzi-Simpson is the first Vice Chancellor for the university.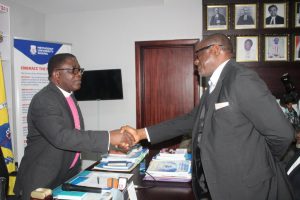 Rev. Dr. Paul Boafo in a handshake with Prof. Bondzi-Simpson
"The University has been in existence for over two decades, and since we were a College, we always had a president," he said.
He indicated that the Vice Chancellor is not a novice in education, and when it comes to championing tertiary education, "that is what gives us the biggest delight as today we introduce him to the church, management of the university and the student population."
Dr. Paul Kwabena Boafo said when it comes to education, the Methodists are noted for the role that they have played in the tertiary education in Ghana.
He also noted that running private universities in Ghana is not something people would want to go in for but, "we know the stature, caliber and strength that you have for which the council appointed you, and we pray that you bring that on board."
He iterated that the university is dear to the heart of the Methodist Church,and assured him of the church'ssupport.
Prof. Bondzi-Simpson expressed his appreciation for the humbling call to service,adding that he would work together with the management of the institution to bring to life the motto of the university which is "Excellence, Morality, and Service."
He also assured that the support of the church would not be one way, adding that his vision is to see a mutual beneficial relationship between the church and the school by the end of his tenure.
By Jamila Akweley Okertchiri
Read Full Story