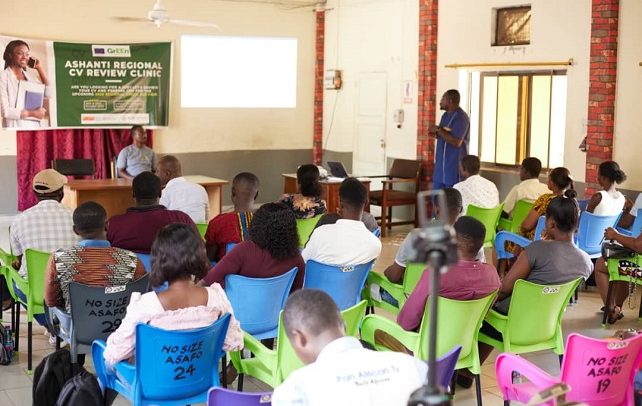 SCORES OF job seekers in Kumasi and other parts of Ashanti Region have benefited from an educational programme on how to write attractive curriculum vitae (CV).
The two-day programme dubbed "CV Review Clinic", serves as a forerunner of the 2022 edition of the Green Regional Job Fair event,  and the brainchild of SNV-Ghana, a popular development organisation.
Significantly, SNV-Ghana partnered with the Association of Ghana Industries (AGI), Ghana Chamber of Young Entrepreneurs (GCYE), the Ministry of Employment and Labour Relations, the Ministry of Local Government, Decentralisation and Rural Development, and the Labour Department to execute the programme.
Sherif Ghali, the CEO of Ghana Chamber of Young Entrepreneurs, said that "many job seekers fail to land their dream jobs owing to their inability to tender a resumé which details their exceptional capabilities and also meets the expectations or requirements of the employing institution."
He indicated that, "the essence of this CV Clinic is to support job seekers to build their CVs, review their CVs and make sure they match the job companies we have. For sometime now, job fairs just open for people to look for a job.
"However, SNV-Ghana wants job seekers to prepare well enough, so that on the day of the job fair, they would know what to expect. This way, we would be able to get young people employed at the job fair. After today, we would receive another batch."
Sherif Ghali commended SNV-Ghana and their partners for coming out with such an educative programme to coach young people and job seekers in general about how to properly write their CVs and get employed.
In his assessment, the increasing rate of joblessness in Ghana is the result of the somewhat defective educational curriculum as well as the repulsive attitude of some employees.
On his part, a Labour Officer at the Regional Labour Department, Frank Agyei Boakye, praised SNV-Ghana for delivering job opportunities to the doorsteps of job seekers, noting that "a CV creates an impression about an applicant with regard to his or her employability skills, hence the need for more of these programmes to be organised."
FROM I.F. Joe Awuah Jnr., Kumasi
Read Full Story