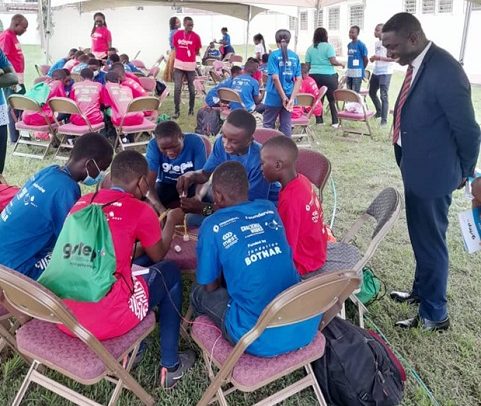 Participants of the GSTEP
TWENTY-FIVE finalist teams for the Greater Accra edition of the Ghana Science and Tech Explorer Prize (GSTEP) challenge have been inducted to start their work.
With the induction, the teams have two months to create and design their prototype project for the competition which is slated for December 2022.
Each of the teams has been provided with the needed resources to create a project which seeks to find a lasting solution or create a product for the environment which would be reviewed before the competition for the final winner.
The teams are also expected to develop their own initiatives and solutions to challenges confronting their communities, with the help of mentors.
Director for International Development at Challenge Works UK, Constance Agyemang, said a total of 800 entries were submitted for the Greater Accra edition.
She added that the 25 teams were selected after a thorough assessment by independent assessors, urging, "This is a lifetime opportunity hence, it is essential that you take advantage of it and give out your best in building your prototypes."
The Director of Science Resource Centre of Ghana Education Service (GES), Olivia Opare, enumerated the importance of STEM education and charged the participants to take the competition seriously.
She asked them to use critical thinking, research, and innovative ideas to bring up solutions to issues threatening their communities and the country as a whole.
AI and Digital Innovation Manager of Foundation Botnar, Siddhartha Jha, said the programme is designed to prepare the leaders of tomorrow who can address societal challenges effectively by putting technology and critical problem solving to good use.
As part of the event, the finalists participated in a series of workshops aimed at providing them with skills to enable them to carry out their activities effectively during the programme.
The workshops were focused on STEM-based education, team building and collaboration, entrepreneurial skills, business plan development, prototyping and project development.
The finalists also participated in a drone flying experience led by Ghana Flying Labs. The finalists were also assigned mentors who would be taking them through a series of mentorship sessions over a period of two months.
Foundation Botnar, a Swiss philanthropic NGO working to improve the health and well-being of young people living in cities around the world, funded the GSTEP with support from Fidelity Bank, Stanbic Bank, Multimedia Group, and Graphic Communications Group.
BY Ernest Kofi Adu
Read Full Story