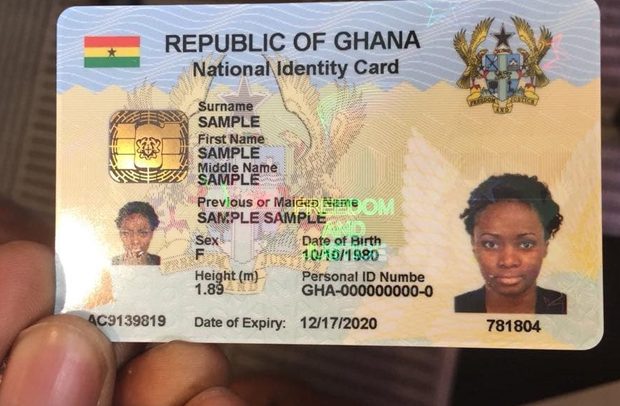 Only hypocrisy would make some of our compatriots regard the Ghana Card as a political nuisance worthy of verbal attacks.
We shall not grow when we continue to be on this tangent. Fortunately, those engaged in spreading the falsehoods and even seeing the use of the Ghana Card as the sole form of identification, as part of a certain non-existent agenda to disenfranchise some Ghanaians, have been exposed.
It is sad that a one-time Chairperson of the Electoral Commission (EC) is himself thinking like a serial caller of a political party.
Today's editorial would attempt, albeit, in an abridged form,  to present the journey of the concept of a national identification document.
The concept has not only metamorphosed from a fledgling into a full-fledged citizenship document, it is digitised, biometrics et al.
In April 2006, Parliament passed the National Identification Authority Act, 2006 (Act 707) to, among others, 'establish an Authority responsible for the issue of national identity cards.' Then in January 2008, Parliament passed the National Identity Register Act, 2008 (Act 750) to, among others, 'provide for the capture of personal information of individuals by the … Authority for the issue of national identity cards.'
Section 18(1) of Act 707 empowered the Minister to make Legislative Instruments to, among others, '(i) provide for the uses to which identity cards shall be put.' Then section 73(1) of Act 750 empowered the Minister to make Legislative Instruments to, among others, '(f) provide that every public office should demand the presentation of an identity card as a condition precedent to the provision of its service.'
In February 2012, the Minister (Hon Alhassan Azong, MP) prepared and laid before Parliament, which passed, the National Identity Register Regulations, 2012 (LI 2111).
Regulation 7 of LI 2111 is titled 'Mandatory use of national identity card.' Regulation 7(1) says 'A national identity card issued to an individual shall be used for the following transactions where identification is required… (j) registration of voters… (l) registration of SIM cards.'
We recall the faux pas which greeted the initial attempt at a national identification card. Indeed some acquired the card but it did not take long before the documents became useless.
Shouldn't we be celebrating the coming into being of a state-of-the-art modern IT-powered Ghana Card, which enables us to stop ghost names on the assortment of public payrolls and compile a credible voter's register?
Isn't it wonderful that a project which proved impossible to accomplish has now become a feature of our everyday lives?
To attempt throwing spanners into the works of a Ghana Card-driven country is to embark on an unproductive trip to nowhere.
We can understand the former EC Chairman, whose tenure was characterised by non-functioning systems. Not even the data management base, the backbone of elections, was anything to write home about.
Like they did to the calls for the replacement of opaque ballot boxes and failed, they cannot stop the Ghana Card simply because of the added integrity layer it is bringing upon elections in Ghana. Elections are not static. They evolve with time as technology advances.
Read Full Story