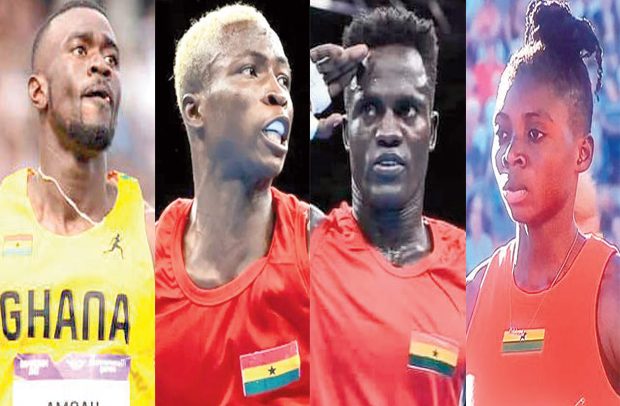 Joseph Paul Amoah, Joseph Commey, Abdul Wahid Omar and Deborah Acquah
THE 2022 BIRMINGHAM Commonwealth Games successfully came to a close on Monday, with Team Ghana securing five medals for their efforts.
Just as the Chef de Mission of Team Ghana, Frederick Acheampong, predicted, the country excelled in boxing and athletics during the ten days sporting fiesta.
Team Ghana managed to win three 'precious' medals in the boxing category, with the remaining two medals coming from athletics (track and field).
In boxing, Ghana won two silver medals and one bronze medal. The country also won one bronze from the 200 meters men and one bronze in long jump.
Those that made Team Ghana proud at the games included Abraham Mensah, who won silver medal in the Bantamweight boxing category.
The Ghanaian pugilist did his utmost best, but it wasn't enough as he was overpowered by Dylan James Eagleson, thereby denying Mensah and Team Ghana gold.
Another medal hopeful in boxing, Abdul Wahid Omar, did not disappoint as he managed to land bronze medal after losing his semi-final bout against Louis Richarno Colin of Mauritius.
Joseph Commey, who was Ghana's surest bet to win gold in the Featherweight boxing, strangely, was declared unfit to fight on health grounds. He, therefore, settled for silver medal.
Commey was having a tournament of his life as he easily defeated his opponents on the way to the finals. It was therefore unfortunate that he couldn't mount the ring in the finals.
In the men's 200 meters finals, Joseph Paul Amoah also managed to finish at third position, and his efforts were rewarded with a bronze medal for Team Ghana.
Deborah Acquah, who struggled before getting a visa to the UK for the games, secured bronze medal for Team Ghana in the long jump.
Deborah's feat is significant and memorable, considering the fact that she arrived in Birmingham for the games just 48 hours before the long jump competition started.
As a reminder, Team Ghana sent a little over 100 athletes to Birmingham and they competed in 13 sporting disciplines for top honours.
FROM I.F. Joe Awuah Jnr., Birmingham, United Kingdom
Read Full Story