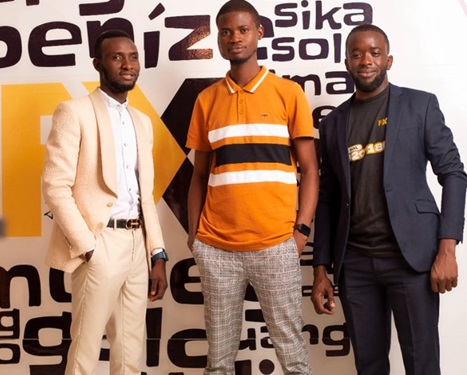 Abioye Oyetunji (left) and co-founders Adentunji Afeez (middle) and Kevin Kodjo (right)
CHIEF EXECUTIVE Officer of FXKudi, Abioye Oyetunji, has urged small and medium-scale enterprises (SMEs) to adopt FXKudi, a new app, for their online transactions and help boost intra-Africa trade.
According to Mr. Oyetunji, payments across African countries have become a huge obstacle to intra-Africa trade because of the high cost of using the bigger online payments systems.
He said Africa is the second largest continent in the world, which spends an over US$4 trillion annually, with a growth in the middle and upper-class population.
"These factors, combined will inevitably lead to an increase in demand for goods and services throughout the continent – making Africa a commercially fertile ground. Thus, FXKudi is solving the problem of informal cross-border money transfer by providing solutions that will allow SMEs, and businesses within Africa to collaborate and pose a better commercial strategy with the international movement of goods and services around the world," he said adding that
FXKudi is expected to expand to ten African countries, to help provide access to affordable, reliable, and zero-fee money transfers by 2025.
Responding to how unique FXKudi is compared to other cross-border payment platforms, Abioye explained that FXKudi is making remittances free without recourse to location.
"Businesses don't have to wait so long to get the money their loved ones sent to them; and money transfer does not have to be so difficult. Businesses need money for different reasons and sometimes it could be so urgent. This is why we made FXKudi to deliver your transfer within minutes to your receiver," he continued.
FXKudi currently covers 310 locations in West Africa through the network of merchants scattered across Africa. It allows customers to send and receive money into their bank account or mobile money wallet across Africa.
BY Prince Fiifi Yorke
Read Full Story