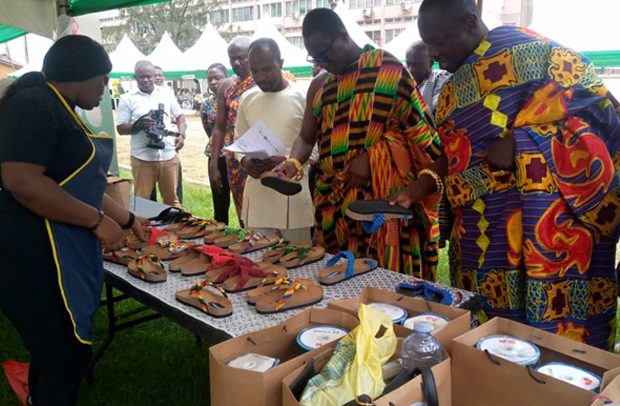 Nana Owusu Afriyie IV, Apagyahene (middle), inspecting some of the products
THE JOHN Agyekum Kufuor Foundation (JAKF) has held its maiden edition of the Youth in Agribusiness Festival in Kumasi, the Ashanti Regional capital, to establish the youth in Agribusiness Information Hub in Ghana.
The festival, which was designed to showcase the outstanding development of young people within the agribusiness sector, sought to celebrate distinguished young agribusiness practitioners by providing the platform for them to share their success stories.
The three-day event came off at Jubilee Park and the Prempeh Assembly Hall in Kumasi, from Wednesday to Friday, with participants displaying agribusiness products and services.
Speaking on the theme "Youth In Agribusiness In Ghana: The Story So Far And The Way Forward," Prof Baffour Agyeman-Duah, Chief Executive of JAK Foundation, explained that it was important to provide the platform to share experiences, learn lessons, and network along the value chain.
That, he said, would serve as an inspiration to generate interest for both the employed and unemployed youths, more especially for those who do not see agribusiness as an attractive business venture will be exposed to the achievement of youth in agribusiness.
The Convener of the Youth in Agribusiness Festival, Jeffrey Agyemang-Duah, said the festival provided an opportunity to demonstrate and celebrate the significant contributions of young agribusiness practitioners in Ghana and leveraged their success stories as an inspirational tool to onboard more young people into the sector.
He observed that consistent demonisation of agriculture and its related business over the years have led to a high level of disinterest amongst the youth, thereby threatening its sustainability.
He, however, added that efforts put together by the public and private sector to whip up the interest of young people in the agricultural sector have yielded some results, but said there was more to do considering the nation's anticipated transformation agenda in the agriculture sector.
Apagyahene, Nana Owusu Afriyie IV, who was the chairman for the occasion, encouraged the youth and the participants not to leave out their dreams of venturing into agriculture.
William Agyei-Manu, Vice Chairman of the Association of Ghana Industries (AGI), appealed to the youth to take agriculture business seriously since it was the backbone of the country's economy.
Mr. Manu, who is also the Executive Director for Ghana Cassava Centre of Excellence (GCCE), assured the JAK Foundation of the AGI's support to the Youth in Agribusiness Programme.
FROM David Afum, Kumasi
Read Full Story