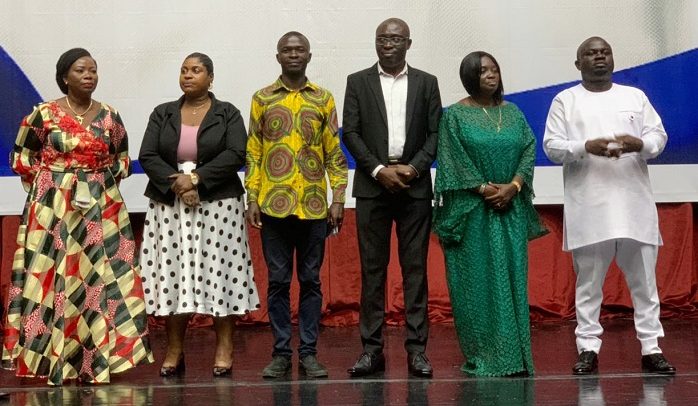 NEWLY-ELECTED National Executive Officers of the Ghana Journalists Association (GJA) were yesterday sworn into office.
Justice George Kingsley Koomson, Justice of the Court of Appeal, administered the oath of office to the newly-elected executives at a ceremony at the Accra International Conference Centre (AICC). The process suffered a brief delay over an alleged injunction.
The six-member executive team is headed by Albert Kwabena Dwumfour, as President, with Madam Linda Asante Agyei deputising as Vice President.
Mr. Kofi Yeboah will man the General Secretaryship while Dominic Hlordzi will serve as National Organising Secretary, a position previously held by the newly-elected president.
Madam Audrey Dekalu and Ms. Rebecca Ekpe will also support the executive team in the offices of Treasurer and Public Affairs respectively.
In his address, new president Albert Kwabena Dwumfour pledged that his reign would usher in transparent and fair leadership which would have "committed and reliable" individuals to serve the journalists of Ghana.
"The GJA appears to have fallen out with some journalists," however, "today marks the dawn of a new era in the life of the GJA."
Highlighting his policies, Mr. Dwumfour said his office would propose a Journalists' Support Fund with support from development partners, to provide assistance to journalists whose rights may be infringed upon in the line of their work.
Journalists, he indicated, would be given the needed support to also pursue legal action against any person or group who would assault them.
On professional development, the new GJA president noted that his office would see to the facilitation of periodic summer exchange programmes for Ghanaian journalists, especially those in the regions, to be abreast of modern developments in the industry while building their capacities.
"We will also work hard to improve the salaries of working journalists," he stated. He said his team will do this by engaging media owners and key stakeholders on how to improve the wages and working conditions of practitioners. This is intended to help them become independent, credible and fearless journalists.
To his colleague executives and media practitioners, he said, "Let us come together to support the repositioning agenda," because "we cannot build a new GJA without first coming together as one."
By Nii Adjei Mensahfio
Read Full Story