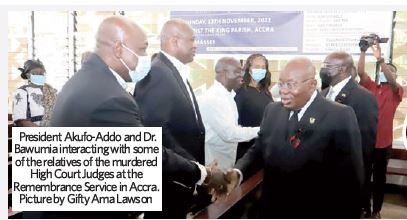 PRESIDENT AKUFO-Addo and Vice President Bawumia yesterday joined members of the Ghana Bar Association (GBA) to celebrate the life and achievements of the famous three high court judges who were murdered alongside a retired military officer in the heady days of the revolution in 1982.
The three Justices, Fred Poku Sarkodie, Cecilia Koranteng-Addow and Kwadwo Agyei Agyepong, and Major Sam Acquah, a retired military officer were abducted from their homes on the night of Thursday, July 1, 1982 and murdered in cold blood at the military range in Bundase after which their bodies were soaked in petrol and set on fire.
But for the intervention of a heavy downpour that fateful night which quenched the raging inferno, the bodies which had become charred would have burnt beyond recognition.
A special investigations board set up by the then Provisional National Defense Council (PNDC) military  government made a number of findings leading to the prosecution of Joachim Amartey Kwei, a member of the PNDC, Lance Corporal Amedeka and Michael Senya and two ex-soldiers; Johny Dzandu and Tony Tekpor.
During the trial, Amedeka, Dzandu and Tekpor broke jail. Whilst Amedeka was said to have fled the country, Tekpor and Dzandu were captured, tried and sentenced to death, with Amedeka's being in absentia.
Though Tekpor was also convicted, he was not available to face the death penalty since it was alleged at the time that some days before his trial concluded,  another public tribunal had found him guilty of acts committed in connection with the jailbreak and had suffered death in the execution of the sentence at the tribunal.
The Ghana Bar Association thus set the day aside as Martyrs Day to remember the three judges, whom a bust each has been erected in their honour at the forecourt of the Supreme Court building in Accra.
At the Remembrance Day service at the Christ the King Parish of the Catholic Church, President of the GBA, Yaw Acheampong paid glowing tribute to the memory of the fallen heroes.
"We have forgiven the wrongdoers for their cowardly and evil deeds. But we still remember these martyrs of the rule of law and will continue to celebrate them. The Bar acknowledges and proclaims those good qualities and deeds for which they were murdered," were the words of Association President, lawyer Yaw Boafo.
"Justices Fred Poku Sarkodie, Cecilia Koranteng-Addow and Kwadwo Agyei Agyepong, the Bar, the Bench and the people of Ghana salute you. You died in the line of duty. You performed your duty as judges without fear or favour. You stood for the rule of law. But your assassins hated what you stood for and murdered you.  They could not eliminate what you stood for."
Present were Chief Justice, Kwasi Anin Yeboah, Attorney General and Minister for Justice, Godfred Yeboah Dame and his two deputies, families of the deceased and the surviving wife of the late Justice Agyepong, Comfort.
BY Charles Takyi-Boadu
Read Full Story