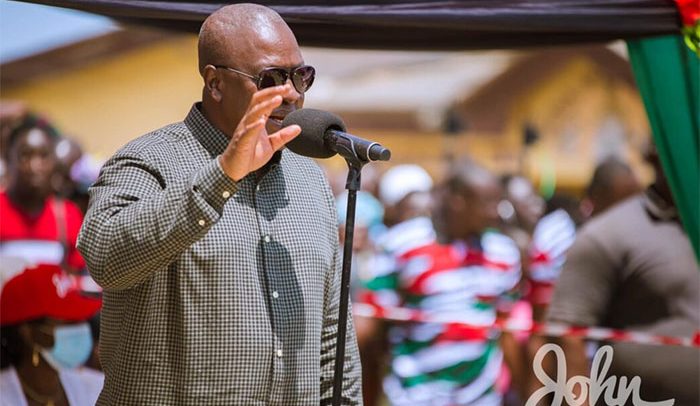 John Mahama
It has been a fortnight since former President John Mahama accused the Electoral Commission (EC) of using a million thumb-printed ballots to give an electoral advantage to the New Patriotic Party (NPP).
The former President's unfounded allegation is part of a series of wild and spurious remarks he is spewing during his so-called 'thank you' tours and other opportunities which come his way. We are unable to tell what will come next. One thing we can be sure of is that he is not stopping anytime soon desperation and frustration being the factors informing his weird and queer conduct on the public space.
The million ballot papers smear allegation stands prominent because of its weirdness. It was not part of the issues he packaged for the Supreme Court's attention when he dragged the EC to the place.
The National Democratic Congress (NDC) ignored the reportage originating from the John Mahama allegation until the EC decided finally to respond to the series of charges he leveled against the Commission.
Elvis Afriyie-Ankrah is the man the NDC has enrobed for the charge against the EC denial of the lies the former President is spewing all over the place.
But for the EC's response last Monday, the biggest issue on the political front burner, the subject matter of one of the Daily Guide's front page stories yesterday, we bet the NDC would not have reacted the way they did through Elvis Afriyie-Ankrah.
The body language of the EC during the press conference suggested that they would have ignored the former President's ranting but for the dire consequences such image damaging projects of the NDC can visit on our outstanding electoral process and democracy as a whole.
With the lucid blow by blow address from the EC and ably presented by Dr. Eric Bossman Asare, Deputy Commissioner, in charge of Corporate Affairs, we can bet the NDC would have remained cocooned in their confinement of infamy.
One thing could surely have pushed the NDC to respond to the EC's 'Let The Citizens Know' press conference, its revelation and instructiveness rendering the former President's so-called one million thumb-printed ballots ineffective and shameful.
Unfortunately pushing Elvis Afriyie Ankrah his punctured integrity a household knowledge, to deny that the former President ever made such a wild allegation rather does more harm to the issue at stake. The NDC have sank deeper into the mud of immorality as they deny that the former President ever made the unsubstantiated allegation.
We are expectedly waiting for the NDC to come out to deny that the party laid claim to election 2020 victory. We are dealing with a party which can do anything except change the course of nature in any form.
The Elvis Afriyie Ankrah denial adds another layer of infamy to the NDC, a party lacking shame. They would have rather the EC did not respond to the charges leveled by the former President. How awful!
Read Full Story