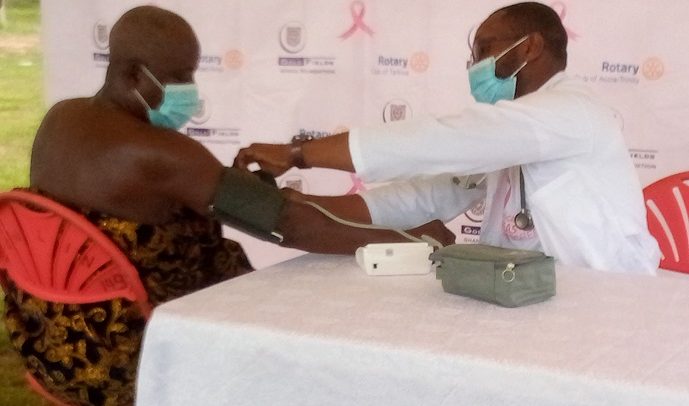 A resident going through the screening
The Prestea Huni- Valley Municipal Director of Health Services, Joseph Kwame Sampson, has stated that the female breasts change over certain conditions, stressing "so there is nothing like normal breasts."
He indicated that when a girl is at the puberty stage, there is a way her breast will look like and when a woman is menstruating or has given birth or when she is obese, there is also a way the breasts will look.
He, however, indicated that any time a woman identifies certain unusual changes on the breast, particularly at the nipples and skin, that person should seek medical care without delay.
The Health Director stated this during a medical outreach and breast cancer awareness programme organised by the Gold Fields Ghana Foundation at Damang in the Western Region.
The programme was held in collaboration with the Rotary Club from Takoradi-Anaji and Accra, at Damang RC School Park and Amoanda MA Basic School Park.
Over 1,000 members from the two communities were screened and provided medications free of charge.
The exercise was carried out by highly experienced doctors, nurses and other health practitioners from Gold Fields' health service provider, the Apinto Government Hospital and health facilities within the company's host communities.
Over GH¢240,000 was invested in the programme which went into the purchase of medicines and equipment, and the cost was borne by Gold Fields Ghana Foundation in Damang with support from the Rotary Clubs.
The General Manager of Abosso Goldfields Limited, Michiel Van der Merwe, said since its inception, the Gold Fields Ghana Foundation has made enormous investments in the health sector amounting to over GH¢ 4.8 million.
Aside the free screening, the women were also educated on the early warning signs of breast cancer and those diagnosed with the early signs would be referred to the nearest health facilities for treatment.
Mr. Van der Merwe explained that the basic objectives of the health outreach programme were to improve and extend access to basic healthcare to all persons.
"At our last outreach programme held in Huni Valley, 22 per cent of the out-patients were diagnosed with malaria, 26 per cent with other conditions including headaches, coughs, chest and body pains. We are hopeful that, this statistics will improve positively in subsequent years."
The President of the Rotary Club of Tarkwa, Buddy Bills Sagoe said, "Today, we are excited to be part of an event aimed at bringing primary health care to the doorstep of the people of Wassa Damang and Amoanda."
Isaac Dasmani, the Prestea Huni-Valley Municipal Chief Executive lauded the organisers for the programme but expressed displeasure about the fact that the actual residents of Damang could not attend in their numbers.
From Emmanuel Opoku, Damang
Read Full Story