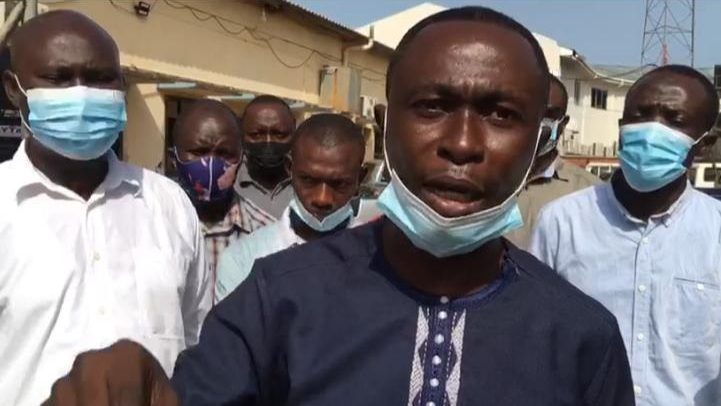 William Asare addressing journalists in Tamale
Workers of the Northern Electricity Distribution Company (NEDCo) in the Northern region have withdrawn their services with immediate effect.
Their action follows the attack of the Northern Electricity Distribution Company (NEDCo) office and vandalization of properties in the process.
NEDCO Senior Staff Association Chairman, William Asare, told journalists that workers of NEDCo fear for their lives in the region reason why they are withdrawing their services.
" Anytime we go out to work our workers are chased and sometimes beaten and our vehicles being destroyed by residents who engage in illegal connections."
He wondered why these acts are not happening in other parts of the country but only in the Northern region.
"We have NEDCo in Sunyani, Techiman, Wa, Bolga and they have all been installed with same meters and it's only in Tamale that you see the residents chase and beat us when we go round to do our work."
According to him, NEDCo loses Gh8.5million which is about 45% of revenue in the Northern region every month due to power theft.
Mr. Asare disclosed that they would only go back to work if they are assured of their safety in the region.
The Tamale Chief, Nyab Dakpema Naa, Fuseini Bawa has sent a strong warning to the youth of Tamale in the Northern Region to desist from attacking government institutions.
According to him, any person or group of persons arrested for engaging in such an act will be punished severely by the palace before handing them over to the police for prosecution by the law.
Nyab Dakpema Naa urged residents in the region to engage with state institutions when they have challenges instead of taking the law into their own hands.
He called for calm between the youth, NEDCo and police adding that there can not be development without peace in the region.
On September 21, 2021, some residents of the Tamale metropolis were allegedly assaulted by police personnel for illegal electricity connections.
A viral video sighted by DGN Online showed how customers who were alleged to have engaged in the illegal connections were assaulted with objects and were physically manhandled by police officers.
Following that some residents in Tamale embarked on a protest to register their displeasure over the brutality meted out on them by some police officers attacked the Lamashegu Divisional Police Command.
Their protest resulted in the attack of the Lamashegu police station and destruction of some properties at the NEDCo office.
Meanwhile, the Ghana Police Service has indicated that the four officers will face service inquiry subject to the regulations of the Ghana Police Service.
FROM Eric Kombat , Tamale
Read Full Story