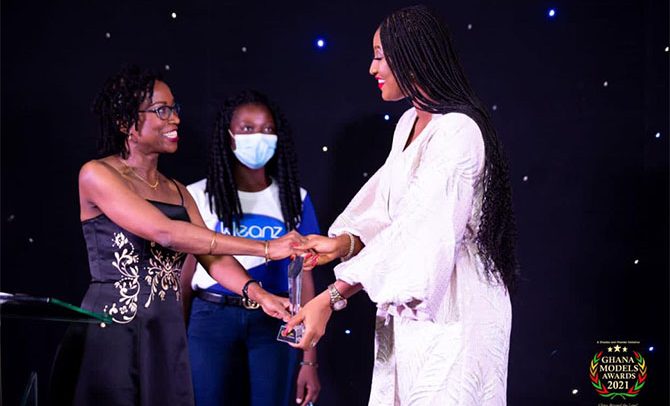 The 4th edition of the annual Ghana Models Awards (GMA) came off successfully last Saturday night at the AMA City Hall in Accra.
It was attended by a number of stakeholders in the modelling and fashion industry, including international model Nini Amerlise and other dignitaries.
UNAIDS Country Director, Angela Trenton-Mbonde, in an address to congratulate award winners at the ceremony, reminded patrons to take precaution when engaging in sexual activities because AIDS still persists. "AIDS is not over but it can be," she stated.
"I would like to remind you that reducing new HIV infections is essential in achieving epidemic control of HIV. For anyone who is engaging in a risk-taking sexual activity, you know the basics of HIV prevention, right? Studies have proven that condoms prevent the transmission of HIV, other sexually transmitted infections, and unwanted pregnancies. Let us get HIV stuck in the rubber! Stay safe from HIV," she added.
Key awards were handed out to players and brands who excelled in the year under review.
Among them were Overall Model of the Year (Male & Female) awards going to Edem Debrah and Anita Ofori respectively.
Best Photography of the Year award was received by Sharon O' Photography while Godzy Model Agency took home the  Model Agency of the Year award.
TV personality, Angela Bamford, who is also a model, was given an honorary award: The Citizen & Philanthropist Award for her charity engagements in recent times. Transformational Drive & Advocacy for 'Modern Tourism' Award also went to Abeiku Santana.
DAILY GUIDE reporter, Francis Addo, also picked an award for Model Publicist or Media Platform of the Year category.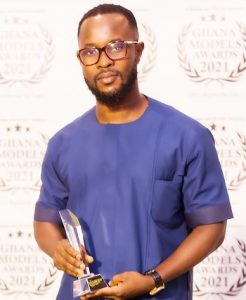 Francis Addo displaying his award
The annual Ghana Models Awards is a platform for honouring excellence in modelling and fashion industry. Saturday's event was supported by UNAIDS Ghana, Flora By Delta Paper Mill, Ghandour Cosmetics and the Canadian Embassy among others.
There were exciting music performances by Mawuly Musiq,  Kobi Rana and his crew. Check online for the full list of winners.
Below is the full list of award winners
Honorary Awards:
The Citizen & Philanthropist Award – Angela Bamford
Leadership & Innovation Award – Hajia Adiza B. Faila (Shamfiz J)
Contribution to Modelling by Individual – Timah Agyei
Transformational Drive & Advocacy for 'Modern Tourism' Award – Abeiku Santana
BreakOut Model of the Year – Nini Amerlise
Contribution to Modelling by Fashion S.M.E – Ammejet Clothing
Model Mentor/ Role Model of the Year – Abena Akuaba Appiah
The Consistency Award – Richard K. Agbemezah
Contribution to Modelling by Corporate Entity Award – Mr Ken Fianoo (Expiga Publicity)
Regular Categories:
Best Photography of the Year – Sharon O' Photography
Bikini or Lingerie Model of the Year – Bolanle Iddrisu
Catwalk Trainer or Choreographer of the Year – Abu Saddick
Child Model of the Year – Nana Adjowa
Discovery of the Year – Sheimamu Abubakar
Editorial or Commercial Model of the Year ( Female) – Debby Fayose
Editorial or Commercial Model of the Year (Male) – Philip Andoh
Fitness Model of the Year – Gelson Harrison
MakeUp Artiste or House of the Year – Lux By Lorey
Model Publicist or Media Platform of the Year – Francis Addo
Model Agent or Talent Scout of the Year – Kelvin M. Quaye
Modelling School of the Year – Exopa Modelling School
Modelling Event or Tv Programme of the Year – Riohs Originate Fashion Show
Most Promising Model of the Year (Male) – Glenn Zime
Most Promising Model of the Year (Female) – Vanessa Delah
Most Promising Model Agency of the Year – Iconz Model Agency
Plus Size Model of the Year – Esther Akua Mawutor
Runway Model of the Year (Male) – Edem Debrah
Runway Model of the Year (Female) – Bintu Baaba Jallo
Underwear Model of the Year – Joey Kwesi Arthur
Video Vixen or Fox of the Year – Nutifafa Ruthy
Overall Model of the Year (Male) – Edem Debrah
Overall Model of the Year (Female) – Anita Ofori
Patriotic or Pan – African Illustration the of the Year – Thatness Modelling Group
Model Agency of the Year – Godzy Model Agency
By Francis Addo
Read Full Story