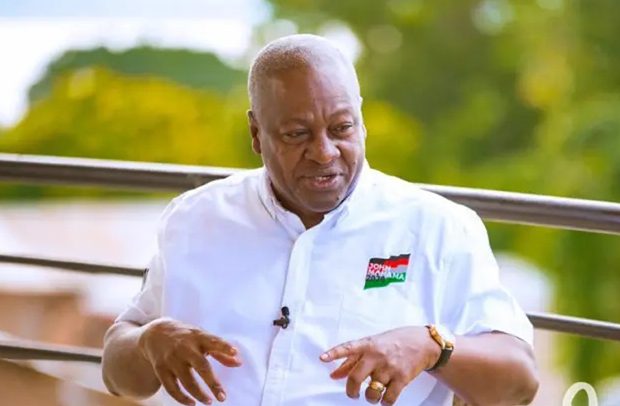 John Dramani Mahama
Former President John Dramani Mahama has come under fire following his chilling 'Do or Die' comment which is an assignment he said his NDC will undertake in 2024.
His opponents have said the comment is inflammatory and also said it is part of the NDC's attempt to foment trouble during the 2024 general election.
Mr. Mahama, taking his 'Thank You' tour to the Bono Bono East Region on Tuesday, said on Akina Radio at Techiman that "it is said that you learn lessons from things that happen so we have also learnt from 2020. The elections will be won or lost at the polling station," he said whilst appearing to hit the table.
He continued that "the polling station will be do or die affair. I haven't said all die be die, it will be do or die at the polling station, in 2024 that is where we will win the election. We will be doing everything to ensure that the election is free and fair. We don't want to cheat the NPP and we also don't want them to cheat us. We just want the will of the people to prevail."
Adamant Mahama
The former President, who is a twice-defeated NDC candidate (2016 & 2020), has refused to withdraw the provocative statement and even shot back at critics sarcastically that he is not a ruffian.
Yesterday, on Moonlite FM in Sunyani, Mr. Mahama insisted that the slogan 'Do or Die' was an idiomatic expression which he explained it as "a critical assignment that you have, and you must do the needful or perish."
"What I'm saying is, NDC must not wait to go to the Supreme Court. We have to be vigilant at the polling station and collation centres. And so I won't retract. The next election for NDC is going to be a do or die affair," he repeated the statement.
Not A Ruffian
Before then, he had said he was not a violent person and insisted that "We all have our beliefs and we all have different upbringings. I was not raised to be a ruffian. I was raised to be polite, gentle and civil to every human being. To be sensitive to people irrespective of who you are. That's how I was raised."
He also added, "I can't change that character and say I am going to be macho, ruffian or fight."
He said "the point is not everyone can do it. But you must not change your character because of politics. For the sake of the peace of the country you must let go of some things. Otherwise, when one says I won't agree and another disagrees, people will die… and you have to be responsible."
"It would be irresponsible to do that. For the sake of peace for our nation, we decided to follow the constitutional route and go to court," he explained.
Hypocritical Stance
Interestingly, Mr. Mahama is the same leader who hit the roof top and made it a calculated agenda of the NDC when current President Akufo-Addo ahead of the 2012 general election, as then opposition leader, made a comment to the effect that the election was going to be 'All Die Be Die!'
Candidate Akufo-Addo later withdrew the comment which many said was even taken out of context, when his attention was drawn to it, and apologised unreservedly for any harm it might have caused.
Mr. Mahama as President, never missed the opportunity to attack the personality of Nana Akufo-Addo anytime peace and national cohesion was discussed because of the 'All Die Be Die' comment.
However, in the current instance, Mr. Mahama is saying that his 'Do or Die' comment is an idiomatic expression and would not have to retract and apologise to the public.
Asabee Fire
One of the leading members of the NPP who is aspiring to be the party's next National Chairman, Stephen Asamoah Boateng, popularly called Asabee, said former President Mahama should not think that the NPP will sit aloof and allow him and his NDC to take the country for ransom.
He said Mr. Mahama has been making what he called 'unguarded' statements aimed at scaring investors and drawing the country back but President Akufo-Addo's administration is focused and would not be distracted.
"The NDC elements led by Mr. Mahama do not have the development of this country at heart that is why they are always wishing for trouble for the country. We in the NPP, will never take the bait. We shall rather focus on our work to deliver our mandate which Ghanaians have given us. We shall not be distracted in any way whatsoever," Asabee, who is the Director-General of the State Interests and Governance Authority (SIGA), said.
NPP Deputy General Secretary, Nana Obiri Boahen, condemned the former President for the 'Do or Die' statement and said the NDC will never succeed with their diabolical agenda.
"In all honesty, I think that statement was quite unfortunate. Unfortunate in the sense that in conducting elections we go through a lot of processes and therefore it will be wrong to take the position that the polling stations will determine as to whether a party is going to win an election or lose it," he said.
By Ernest Kofi Adu
Read Full Story