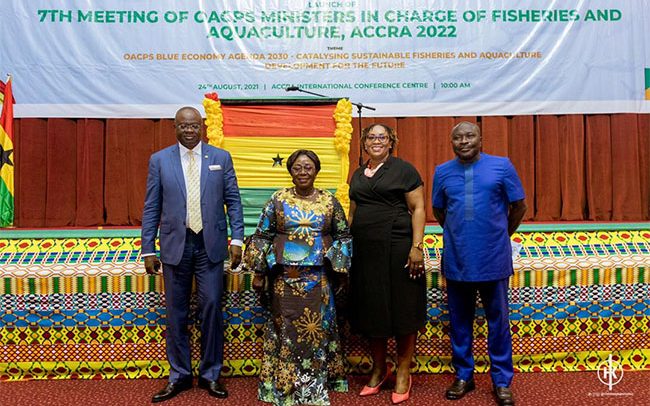 Chief of Staff Calls for Sustainable Ocean ExploitationChief of Staff, Frema Osei Opare, has called on stakeholders to preserve the oceans and riverine resources through sustainable exploitation.
According to her, it was through appropriate practices that the benefits of oceans and riverine resources can be harnessed for sustainable development.
"The Blue Economy Agenda has received a global recognition and constitutes a key element in the attainment of the United Nations Sustainable Development Goals, especially Goal 14 (protection of life below water), and recognizes the importance of coordinated actions to sustainably manage, protect and preserve the ocean for the present and future generations," she said.
Madam Osei Opare was speaking at the official launch of the 7th Meeting of Ministers in charge of Fisheries and Aquaculture of the Organization of African, Caribbean and Pacific States (OACPS) scheduled to take place in Ghana from 5th to 8th April, 2022.
The upcoming 7th Meeting of Ministers is themed, "OACPS Blue Economy Agenda 2030 – Catalysing the Sustainable Fisheries and Aquaculture Development for the Future".
The OACPS forms part of the Organization's Ministerial Fisheries Mechanisms to enhance coordination and cooperation in the collective development and management of the fisheries and aquaculture sector of Member States.
She said there is a growing appreciation that the world's Oceans and related resources require more in-depth attention and coordinated action for sustainable development especially in Coastal and Island Developing States.
"Oceans, seas and riverine provides a substantial portion of the global population with food and livelihoods, and are the means of transport for about 80% of global trade.
The marine and coastal environment also constitutes a key resource for the important global tourism industry," she added.
Madam Osei Opare however noted that the rate of marine and coastal ecosystems degradation mainly due to human activities like the use of illegal fishing methods, overexploitation of fisheries resources, ocean pollution and the impact of climate change calls for increased efforts towards sustaining the ocean and coastal ecosystems.
She said the government through the Ministry of Fisheries and Aquaculture Development is working assiduously to address the challenges confronting the fisheries and aquaculture sector in Ghana particularly Illegal, Unreported and Unregulated (IUU) fishing and depleting marine fish stocks.
"The steps taken include the development of Fisheries Co-Management Policy to enhance fisheries management, enactment of new Fisheries Act 2002 (Act 625) to incorporate emerging trends in fisheries management and address inconsistencies in the existing Act, development of new National Plan of Action to combat IUU fishing; and Retooling of the Fisheries Enforcement Unit (FEU) for intensified fisheries law enforcement," she added.
She thus called on corporate Ghana and users of the ocean to generously support the Ministry of Fisheries and Aquaculture Development (MoFAD) in the implementation of the policies.
By Jamila Akweley Okertchiri
Read Full Story