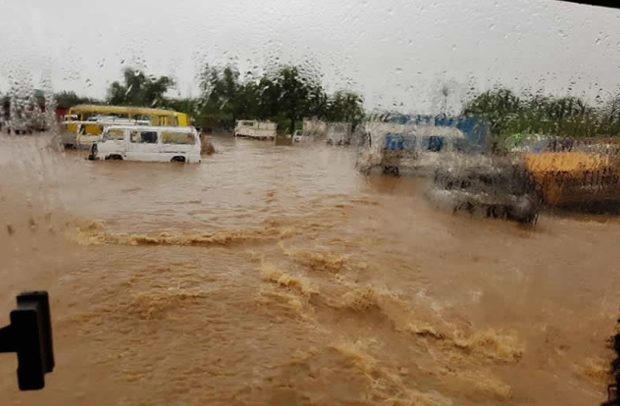 It rained again and Accra was flooded. Parts of the city not counted among flood-prone areas came under rainwater.
Although there were no casualties as in previous deluges, there was marked destruction of property and anguish.  
Over the years, we have failed to address this perennial trend which now comes with casualties, for which reason the subject has become an annual subject of public discourse.
Such discourses have not led to any phenomenal engineering breakthrough in the area of addressing the challenge.
Announcements about plans to reverse the trend whenever the floods descend upon us only attract wry smiles. The management of the floods has unfortunately become a means of gauging the seriousness of government appointees.
We have complained over the years about the annual rituals of visiting flood affected areas soon after deluges when indeed nothing is done to address the recurring situation in subsequent years.
It is disturbing when the causes of floods are attributable to both residents of the nation's capital, managers of the city and even policymakers.
Our open gutters are part of the problem yet this is hardly considered when floods are discussed especially how to address them by both experts and members of the public. As for the poor engineering work by contractors nobody mentions them. The hiccups at the Circle project and which contribute to the perennial flooding at the location has never made it to the front-burners and so such bad contractors get away with their shoddy jobs leaving otherwise glittering roads prone to perennial floods.  
A whopping amount of money was reportedly earmarked for addressing the perennial flooding of Accra. Indeed, the fanfare which accompanied the announced convinced most residents that now the problem has received effective attention from the appropriate quarters and flooding confined to the chapters of our civil engineering history.
City dwellers are beginning to lose hope that something is coming their way in the form of reversing the nasty floods and this is affecting the confidence of the people and those in charge of managing our national capital.
Residents too must be made to understand that they too are contributory factors for the perennial inconvenience of floods and even casualties. Dumping plastic products into the drainage system which after all is not in the best of shapes is something all of us must join hands in stemming.
We are unable to enforce by-laws which can deter                                                      city dwellers from continuing their bad practices of choking the gutters with their bad ways.
With more rains predicted, we do no not know whether the worst is over but the fact remains that only a revolutionary approach to addressing the perennial flooding can get us out of the wet doldrums.
With the President taking a trip to the site of the dredging works ongoing on the Odaw River near Circle yesterday, perhaps that could push the relevant appointees to wake up and do something about the dangerous situation staring us in the face.  
Read Full Story