A South African man has apologised for the "unspeakable pain" he has caused after making a racist slur in a video widely shared on social media.
Adam Catzavelos filmed himself on a beach, saying it was "heaven on earth" as there were no black people there.
In the video, he said a derogatory term used historically by white people to denigrate black South Africans.
He said he felt "total shame" seeing it again and such "stupid comments" stalled the healing of racial tensions.
Racism remains a major issue in South Africa, where white-minority rule ended in 1994.
'I will spend my life repenting'
On Wednesday, his family sacked him from the family business after the hashtag #AdamCatzavelos began trending when the video went viral on social media. It is not clear where it was filmed.
Twitter users identified Mr Catzavelos and called on businesses to boycott the family's company, which manufactures marinades and sauces and where he worked as a marketing director.
South Africa's Culture Minister Nathi Mthethwa said Mr Catzavelos' use of the "K-word" was "absolutely unacceptable" and "had no place in our society".
In Mr Catzavelos' statement, circulating on social media, he says he has "shown a complete lack of understanding of what the people in our nation have endured" and will spend the rest of his life repenting for his "total lack of respect and judgement".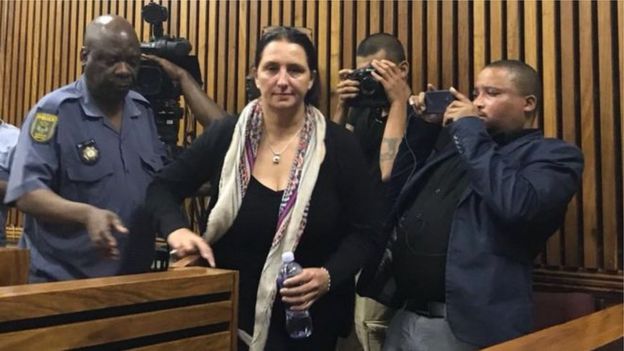 "It is important for people not to think this is what other people in South Africa think," he said, adding that he had offended everyone who wanted harmony in South Africa, "a beautiful and diverse country".
The opposition Economic Freedom Fighters (EFF) party has filed a criminal case against Mr Catzavelos – meaning the police will have to investigate.
The Ahmed Kathrada Foundation is filing a complaint about Mr Catzavelos at the South African Human Rights Commission, but urged the state to pursue criminal charges, saying it was time for racist offenders to face jail sentences.
"If anything, the Catzavelos case reminds us just how deeply entrenched racial attitudes are and that fighting racism requires dedicated focus across all sectors of society and across all fronts," said Neeshan Balton, executive director of the foundation set up by the late anti-apartheid fighter Ahmed Kathrada to continue the fight against racism.
The government is planning to criminalise hate speech followed a series of similar cases.
In March, a woman was jailed for using the highly offensive "K-word" 48 times, and in 2016, another woman was fined for calling all black people "monkeys" on Facebook.
–
Source: BBC
The post Shamed SA man apologises for racist rant appeared first on Citi Newsroom.
Read Full Story